Original Sketches
It is that time of year again folks! It's my third year of taking part in the art challenge where you have to draw a sketch for each day of the month, using inks of some kind. To make it even more challenging I get you to suggest the themes.

The month's list is on my Facebook page so join in and suggest something

A Real Little Heart Breaker

Light at the end of the rainbow

Day 1 Rottweiler puppy

| | | | |
| --- | --- | --- | --- |
| | | | |
| | | | |

Day 5 - Hammerhead shark and scuba diver - £75

Day 6 - Three in a bed! - £75
Day 7

Day 8 - Moving Home - £75

Day 11 Weight training and chocolate - £75

Day 12 Lilo and Stitch - £75
Holiday Sketches

My characters went on their holidays this summer.

The Bolt hole On A4 for £75

The Seaside

CloseNess On A4 for £75

Loch Ness
I Feel Lucky! SOLD

Las Vegas

What a Woman! Sold

New York

Ready To Take A Bite

NewYork
Side By Side On A4 for £75

The Seaside

Going Bananas in the Big Apple!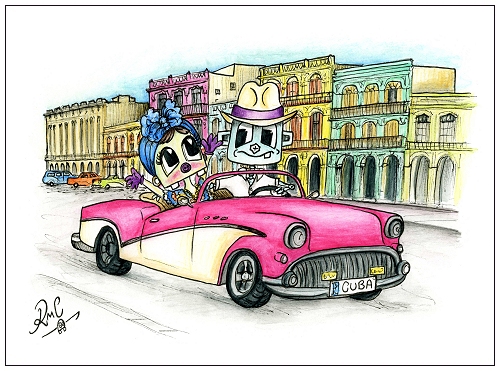 Havaning The Time of their Lives
Cuba
April Showers

On A3 was £245 in sale £195

I Have A Lot Of Love To Give

On A3 was £285 in sale £195
I have become obsessed with drawing dog sketches! I love bringing out a character with just a look. If you would like your pooch drawn just message me for a quote.

Captain Puggles

On A4 for

£75

Labra doodle

On A4 for

£75

Draw Me From My Best Side

On A4 for

£75

The Canines Strike Back

Sold
Can I Keep It?

On A4 for

£65
Captain America: Rain

On A3 was £145 in sale £95

Captain America:

Kiss On A3 was £145 in sale £95

If you would like to buy both you could have them for £180, just email me or if you would like to pay in installments.

 
If you would like to commission a sketch just message me.
I post the sketches onto my Facebook/Instagram pages as I do them, follow me to see them first.
Once again I took part in the challenge where you draw a sketch, in inks of some kind, every day of the month of October.

To make it fun I asked people on my social media to suggest my themes for each day.

All you crazy lot bought nearly all of them but here are a few that are still available.

Roll on this October!

Day 5 - 'Enjoy the Little Things' - £65

Day 6 - 'Love Wins' - £65

SOLD

Wherever you wish, Signorina - £65.

Day 19 - Punting On The Cam

You Are My Sunshine - £65

Day 12

| | | | |
| --- | --- | --- | --- |
| | | | |
| | | | |

But You're A Softie On The Inside - £65

Day 25 - Iron Man

Round The Twist - SOLD

Day 13 - Pulp Fiction
If you would like to purchase any of these original sketches send me message or contact me through my socail media pages.
For a full price list of the available originals and limited prints just email me.

Ó

2018 Rebecca Cother, All rights reserved
banksy, banksy, banksy, banksy, urban art, urban art, urban art, urban art, mr brainwash, mr brainwash, tom lewis, tom lewis, paintings, paintings, tom lewis, tom lewis, tom lewis, cotswolds, graffiti, graffiti, street art, rebecca cother, rebecca cother